I like to use edible flowers – both fresh and dried – in my cooking. The scent, the color, the variety of flower shapes – all this makes them irresistible for me. Spring and Summer is when I encounter the largest selection of edible flowers, and since I get a lot of questions about sourcing and using edible flowers, I thought I'd write down a few things I do to make sure I have a supply during of the whole year.
Safety first!
Consult a doctor or herbalist before consuming any flower. You need to know exactly what you are consuming. Please also remember that not all parts of the flower are edible and some varieties should be avoided if you are pregnant or breastfeeding. There are many good references online and offline so be sure to read them.
Books about edible flowers
Books about edible flowers are a great way to learn about this rich subject, and there are some wonderful new titles available. These are some to look for: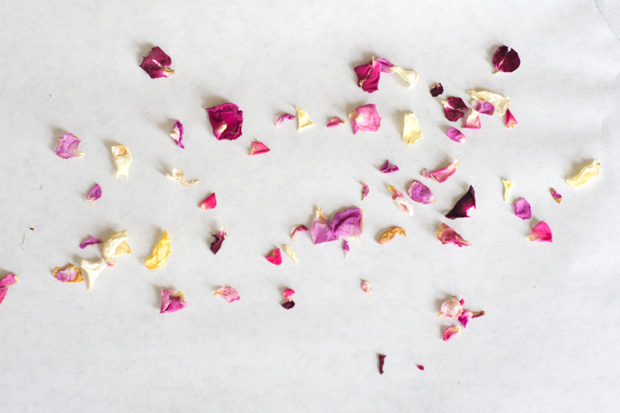 Where to buy edible flowers
Farmers markets are a great place to buy edible flowers. Ask if you don't see them displayed. Because they are fragile, farmers often keep them in a cool box. Additionally, you can sometimes find them in the produce section of certain grocery stores, usually chilled near the herbs.
Grow your own edible flowers
The most economical way to source edible flowers is to grow them yourself. Harvesting flowers from your own garden is incredibly rewarding (and beautiful!). Chive blossoms, thyme and oregano blossoms, lemon blossoms and rose geraniums bloom in our garden all year round. They are often the perfect accent that makes a salad or cake extra special. Shop for plants at your local nursery or chat to a plant vendor at your local farmer's market. They often focus on edible varieties. There are also seed packets available online and at garden centers.
What Are Some Common Edible Flowers?
Hibiscus, chamomile, rose, violet, calendula, chives, basil, thyme, zucchini flowers, and nasturtium are commonly used in cooking, baking, and beverages. There is a more comprehensive list below. Keep in mind that not all flowers are edible, some are poisonous and correct identification is essential. Again, not all parts of the flower are edible, and some varieties should be avoided if you're pregnant or breastfeeding, so please read some of the references I linked above.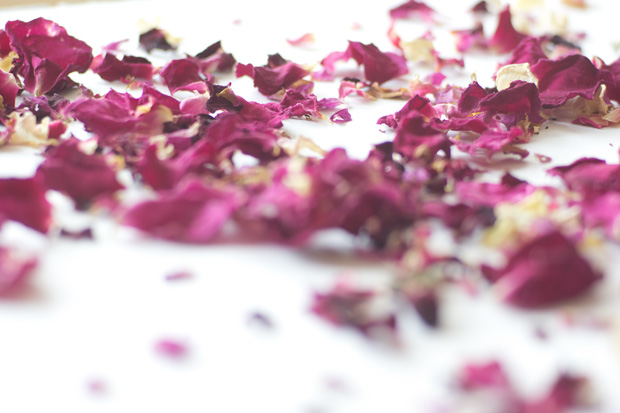 What to do with edible flowers
I've included a number of things I learned below in the section that usually includes the recipe. One of my favorite things about certain edible flowers is simply drying the petals. These organic rose petals (pictured) are about halfway through the drying process, instructions below. They lose an incredible amount of volume as they dry. Even if you feel like you're starting with more petals than you could possibly use, remember that you'll end up with a lot fewer than when you started.
floral inspiration
There are many amazing chefs and cooks who work with edible flowers. One of my favorites is April Valencia at Masa Memory.
The hashtag #edibleflowers has almost a million posts. You will see lots of flower cookies, flowers on cakes, flower petals in ice cubes and the like. And then the occasional floral wildcard. Follow us to see the creative uses.
Rose geranium lime sugar
One of the most prolific plants in my garden is a rose geranium. She spreads out of a shallow pot every year and is sure to send out pretty purple flowers. Keep an eye out for rose geraniums at your local nursery, the leaves perfume the world around them – perfect for infusing sugar, alcohol and baked goods. I have included a recipe for this rose geranium sugar in the Spice / Herb / Flower / Bowl PDF I made for members of this site. You can find it in your account if you are a member, or log in here to become a member.
recipes
I've included more ideas and information in the recipe section below. Please let me know if you have any other favorite ideas, uses, or references for edible flowers. I saw a rose petal paste the other day that looked amazing and I'm always looking for other ideas and techniques to explore. On the list to try: lilac honey, lilac ice cream or lilac sugar and chive blossom vinegar xo -h
Here's a rose petal granola and a beautiful rhubarb rosewater syrup. These buttermilk berry muffins are dusted with rose cinnamon sugar. And I like green iced tea with some rose in the infusion. Last but not least, here is a post I wrote on how to dry herbs, many of the best practices regarding edible flowers apply here as well. Enjoy!
101 Cookbooks Membership
Ad-free premium membership includes:
-Ad-free content
-Print-friendly recipes
-Spice/Herb/Floral/Zest recipe collection in PDF format
-Weeknight Express recipe collection in PDF format
– Surprise bonuses all year round