One of the things I've tried to get better at is on-the-go lunches. It takes some effort to come up with inspired lunch ideas. Let's face it, a lot of the time it's leftover remarketing. Too often when we won't be home for the day we just wing it. And I'm almost always sorry we didn't bother to pack a good lunch. This is especially true when we are on some sort of journey and hauling the airstream. Because on these days, parking dictates where you have lunch. And just thinking about it makes me cringe. So yeah we're trying to get better over here and I thought I'd share some of the recent wins.
#1 Lunch Ideas
These lunch boxes (above) came together pretty quickly. Almost everything was left over or part of a previous meal. To pull it together, I peeled the hard boiled egg and dusted with chilli, sliced ​​the avocado, and sliced ​​the tangerine.
1. Spicy Sesame Coleslaw: You've seen it before, you'll see it again. lol It's my favorite coleslaw and I eat basically everything. Feather-light green and red cabbage along with carrots, apples, and scallions, tossed with a tangy, creamy sesame dressing.
2. Pickled cauliflower: The pop of color you need in your lunch. This quick pickled cauliflower delivers a good dose of spiciness and crunch amidst less structured components. I make mine with chilies, mustard seeds, and onion slivers, but feel free to play around.
3. Hard Boiled Egg Dusted with Chile: Here's how to make these. Combine equal parts chili powder and MDH chana masala powder in a small bowl. I like to use this Kashmiri Chili Powder, but use what you have (and like). Shell your egg, rinse, pat lightly on a clean towel to remove excess water, then roll around in the spice mixture until completely coated. Slice and serve or pack with lunch.
4. Turmeric Onion Tofu Spread: This is actually leftover won tan filling from my last round of won tan soup. But it is also excellent as a filling for salad wraps, crackers and spreads and on its own. Here I nestle it in a stack of 2-3 small gemstone sheets. Get the recipe – it's the first part of the recipe on this page, minus the wrappers.
5. Red flavored edamame: I'll be posting this as my own recipe soon, it's a homemade spice mix made by chopping together Kashmiri chilies, smoked paprika, brown sugar, sesame seeds, dried onion flakes, salt and a kiss of cardamom. Sprinkle generously. There are many other ideas for spice mixes in the Spices/Herbs/Flowers/Zest PDF given to members. Almost all of them are great here. Experiment!
6. Tadka with nuggets and curry leaves: I've definitely been overdoing my young curry tree lately. Toast a cup of pepitas and set aside. Heat 2 tablespoons oil in a small saucepan over medium heat, stir in 50 fresh curry leaves. Keep stirring and when the leaves start to crisp, add 2 teaspoons black mustard seeds. Keep stirring and when the seeds are slightly toasted and no longer popping, add 1/2 teaspoon chili powder. Pour this over your pepitas, toss well and salt to taste. good on everything including the soba at next lunch.
Also: purple rice, sliced ​​avocado, tangerine wedge, nutritional yeast kale chips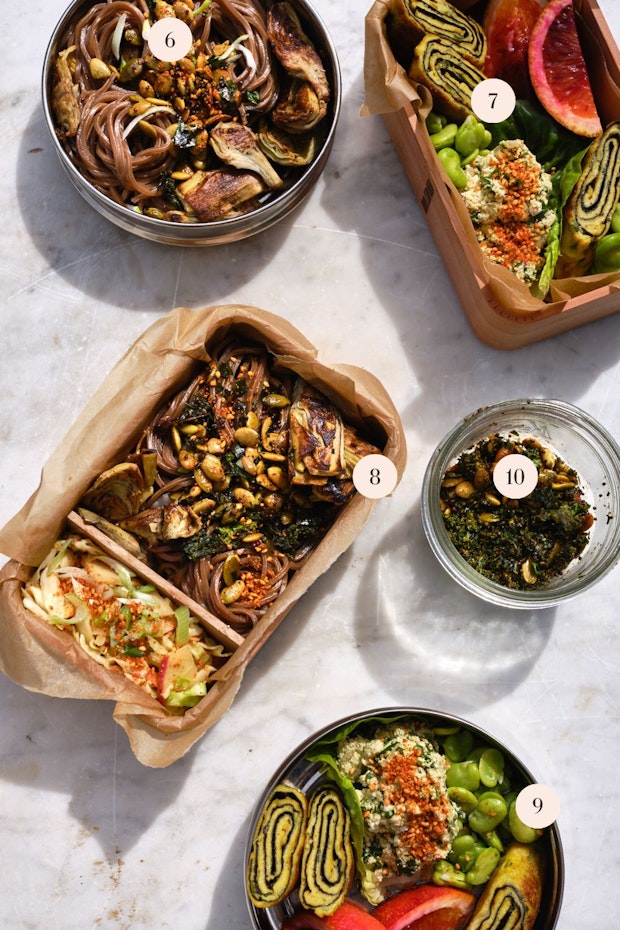 Lunch Ideas #2
The only component of the lunch boxes (above) that wasn't made ahead of time was the soba noodles. I cooked them and ran them under cold water just before wrapping.
6+ Soba with Pepita & Curry Leaf Tadka: The same Pepitas as above (Lunch Ideas #1), this time mixed with cold soba.
7. Vegan Tamagoyaki: This is a vegan version of tamagoyaki, the popular Japanese rolled omelette. I like to make chickpea and tofu version, and this one is lined with nori and seasoned with scallions and herbs. They're awesome lunchbox heroes because you can craft them ahead of time and roll them. They'll keep for a few days, so you can slice them up and get started.
8. Blistered Artichoke Hearts: Leftovers from last night's dinner. I cooked these from frozen. So easy, so good. I wrote a long post on how to cook artichokes – both fresh and frozen. So if you love artichokes but think they're too much work, read this. Ditto if you think the frozen ones will go bad. They're not, and they're great for scenarios like this, quick pasta, casseroles, etc.
9. Broad beans tossed with citrus olive oil: These are broad beans that have been shelled, briefly cooked, shelled again and then spritzed with a little lemon olive oil and tossed with a pinch of salt. From the previous dinner. I do the same with edamame, but favas are in season and I'm worth all the peel and peel drama.
10 Kale Chips: Some extra mashed kale chips tossed with the remaining pepitas. My method for epic kale chips is this: buy kale, make sure it's dry if you've washed it recently. Drizzle the kale with olive oil and crumble with your hands, making sure everything is covered. Swirl with plenty of nutritional yeast, get a good coating going. Season with salt and bake at 375F until chips begin to brown around the edges. Throw well. Continue baking until crispy but still mostly green.
Also: blood orange wedges for dessert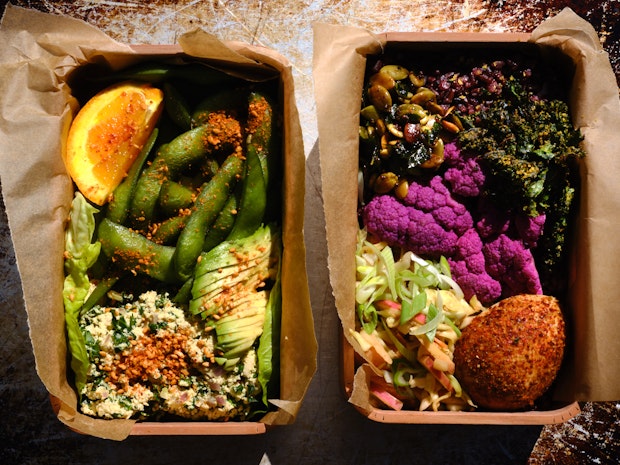 A few pro tips
There's really only one main tip, but I'll add more as I think of them. Line your bentos with parchment paper for easy cleaning. This is not so important with stainless steel containers, they clean up quite quickly. Bentos, often made from cedar, are a bit more fragile and require more care if you want them to last for many years. Also, tidy up as soon as you get home. Resetting is key to looking forward to your next special packed lunch.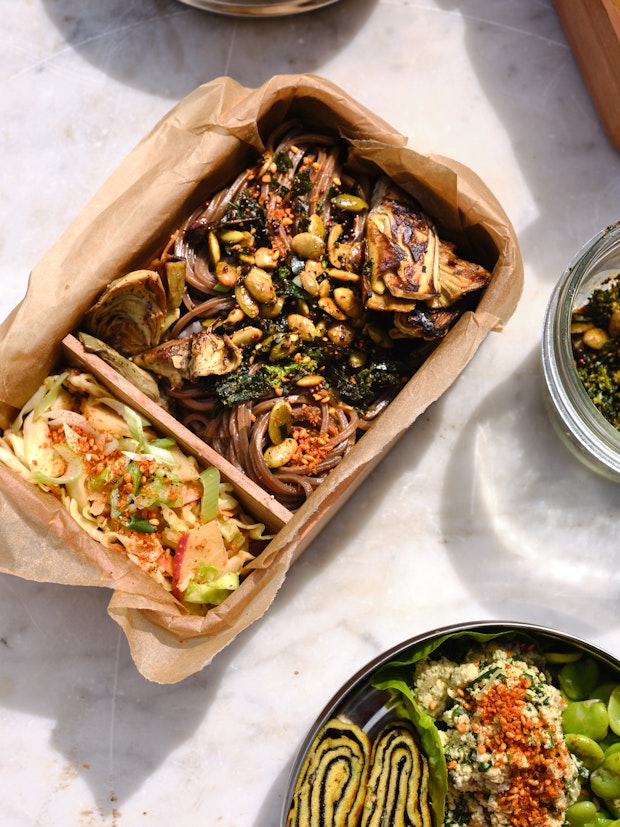 Favorite Lunchbox Container
benthic: I have (and love) my little collection of bento boxes. They are beautifully crafted and fit in the perfect amount of food. They often come with small dividers to create separation between foods, but you can also use lettuce or other small containers to divide things up.
Tiffins (or Dhabbas): These containers have long been used in India to facilitate healthy, home-cooked meals away from home. I have a round, three-stack stainless steel version that I love for a number of reasons, including durability, compactness, and safety. The levels nestle closely together, making spills and accidents unlikely. I also have a rectangular version in mind.
Both bentos and tiffins have a tradition of facilitating meals prepared with care and love. And continuing that tradition, I try to channel when I'm packing a lunch for myself or someone I care about.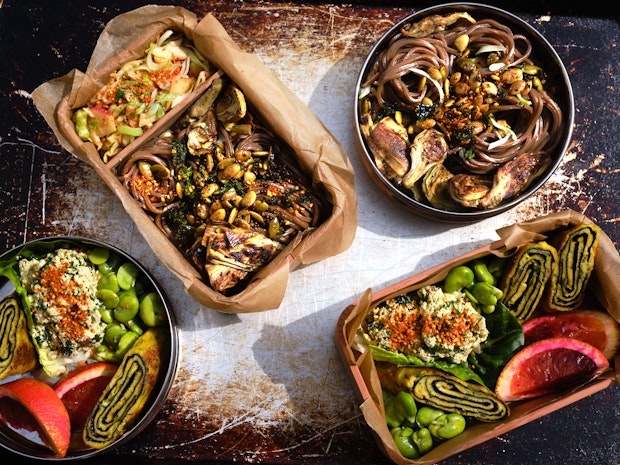 I don't mind mixing different types of lunch containers. And sometimes I make an individual lunch for each person, each in their own container. But sometimes I think it's okay to load up some family-style containers and do it that way. I think this works great for components that can be more communal, like edamame or a bunch of dumplings, a stack of paratha or quesadillas, etc.
Hot lunch!
Use a thermos to bring hot miso soup or tea or rasam or whatever else you can think of. It's always the icing on the cake and always makes me happier (or happier!). If I'm really up to something, I'll bring green tea, miso soup, or soba tea, and a durable glass or two wrapped in a cloth. Just pack it back up when you're done.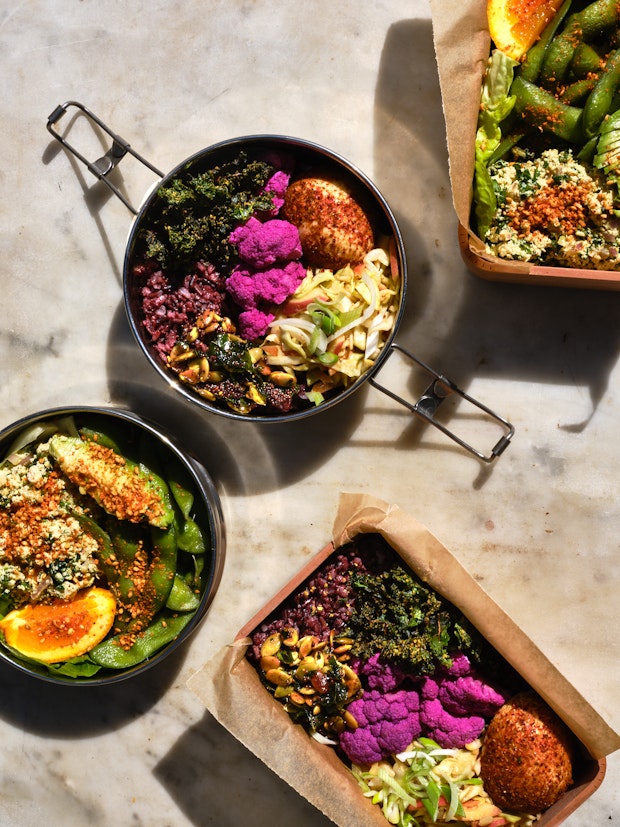 I hope this provides some inspiration! Taking a little time to sit down to a carefully prepared, healthy, home-cooked lunch is truly wonderful, and I never regret the extra effort (in the long run). While it can make a morning a little more tiring than usual, I know if I do it I'll eat better, feel better, and look forward to sitting down for lunch. Enjoy! -H
101 Cookbooks Membership
Ad-free premium membership includes:
-Ad-free content
-Print-friendly recipes
-Spice/Herb/Floral/Zest recipe collection in PDF format
-Weeknight Express recipe collection PDF
– Surprise bonuses all year round