With just 4 ingredients, this creamy, fluffy, aromatic fresh strawberry butter is super easy to prepare and so delicious that your toast will never be the same again!
Simple recipe to use up your strawberries
My kids love strawberries. So much so that even though they are not in season, my mother was very nice and bought them from Costco as a reward for my girls. We have grown strawberries in my garden for the past 3 years. And since I've remodeled my garden three times, my strawberry plants have been transplanted three times. I wasn't sure how they would do it this year after the third transplant, but they actually did better than ever! My girls (and the neighborhood kids) picked strawberries well into October.
When you have tons of strawberries, think about delicious recipes that you can use them in. Making a strawberry puree is a great way to use strawberries that may be getting a little old. This is where this strawberry butter recipe was born. It's sweet, fluffy and perfectly refreshing with the bitter taste of fresh strawberries. Take your toast to the next level with this amazing strawberry butter!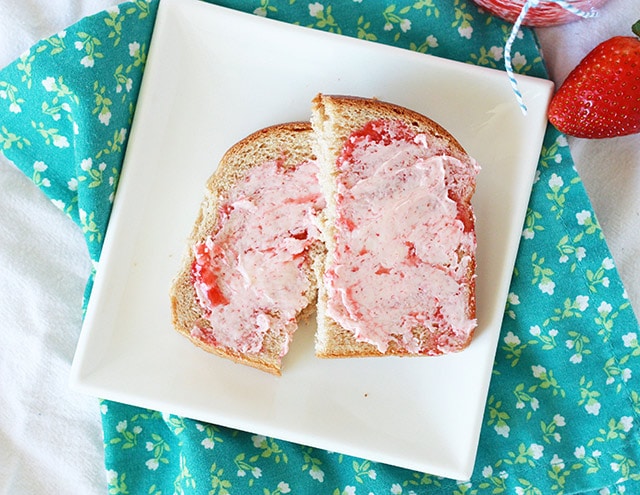 How to make strawberry butter
This only has 4 ingredients! It's super easy to do. First, rinse and peel your strawberries and place them in a food processor. Mix until you have a smooth puree. The smell of strawberry puree is like heaven. Seriously, I could just eat this with a spoon.
If you don't like seeds, you can take your puree and push it through a fine mesh sieve. This step takes some time – it probably took me 10 minutes. You can definitely skip this step if you don't mind the seeds!
You want your butter to be room temperature when you beat it with the strawberry puree. I used my kitchen help and whipped the daylight out of them. And voila – you get a creamy, fluffy, aromatic strawberry honey butter. Put it in a cute jar as a gift!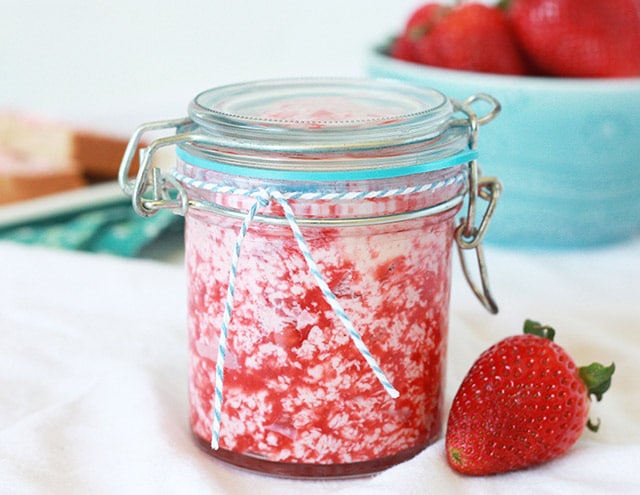 This strawberry butter will keep in your fridge for 2-3 weeks. Make sure you put it in an airtight container to keep it fresh longer. Enjoy!
More of our favorite strawberry recipes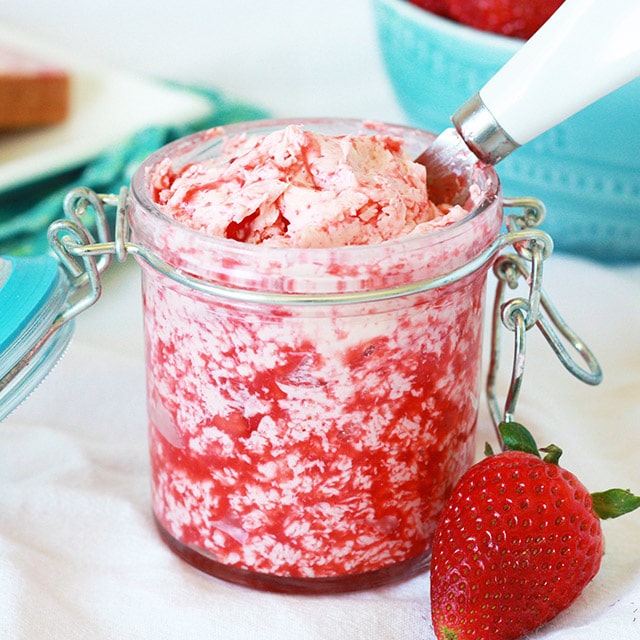 1/2

Cup

Strawberry puree

10-12 medium-sized strawberries

1

tablespoon

honey

1

TL

fresh lemon juice

1/2

Cup

butter

1st floor
Puree the strawberries in a food processor or blender. Mix in the honey and lemon juice.

Beat the strawberry mixture with room temperature butter.

Enjoy toast, bagels, sliced ​​bread or English muffins!
Calories: 151kcal | Carbohydrates: 8thG | Fat: 14thG | Sodium: 2mg | Fiber: 1G | Sugar: 7thG