Tamagoyaki are Japanese rolled omelettes, a popular bento ingredient and a heavyweight lunchtime helper around here. Sometimes I like to make them the classic way with beaten eggs. I also often make a vegan version with a mix of chickpeas and tofu. I've been working on a post on feel-good lunch ideas (coming soon) and the vegan tamagoyaki is a cornerstone. You can flavor these tamagoyaki in endless ways, make them ahead of time, and enjoy tamagoyaki on the go. The perfect high protein player.
Vegan Tamagoyaki: Inspiration
There used to be a vegan frittata I loved at Go Get Em Tiger in Los Feliz, Los Angeles that was made with a rich batter of chickpea flour and lots of olive oil — I don't see it on the current menu. It was streaked with kale and sprinkled with cherry tomatoes, scallions were involved and the "egg" component was fluffy and awesome. There is a lot of olive oil in this vegan frittata, more than I would want to use in an everyday recipe, so I used a base of chickpea flour mixed with silken tofu and less oil. It works great, cooks (and browns) beautifully, and is a great plant-based alternative to the classic tamagoyaki. This recipe takes another leap from traditional tamagoyaki recipes, which are typically sweetened with mirin or sugar and flavored with dashi and soy sauce. That means once you've honed your technique, you can play with all the spice variables and make yours as classic or experimental as you like.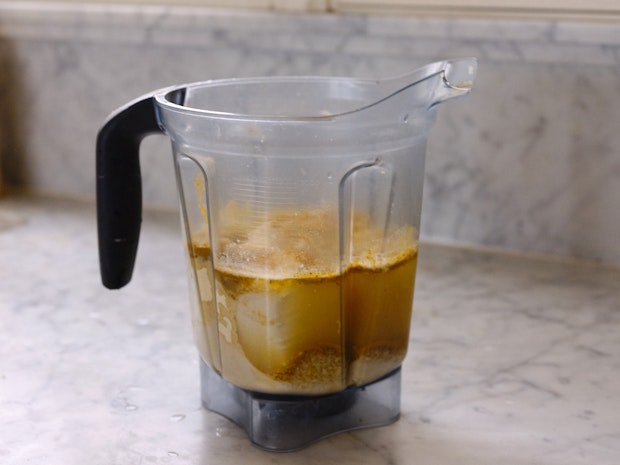 The chickpea, tofu, and spice mix is ​​easy to make with a blender (or hand blender). It keeps refrigerated for days, which is great for on-the-fly buns.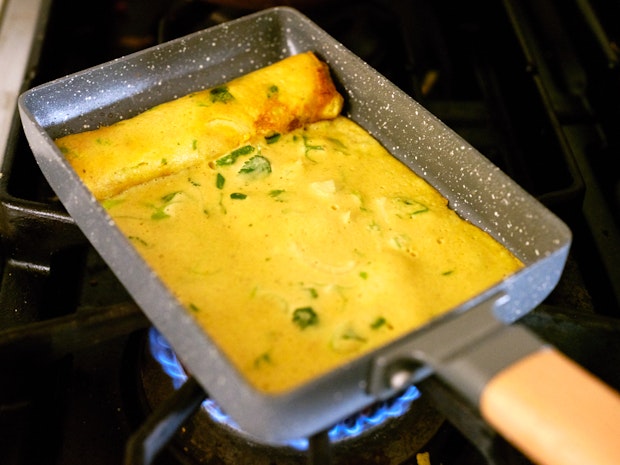 Choosing a tamagoyaki pan
You have a number of options here when it comes to pans. I have a simple, rectangular, classic, small, cast iron tamagoyaki pan that makes wonderful egg-based tamagoyaki (not pictured). It really doesn't go so well with vegan tamagoyaki. The dough burns and sticks and frankly it's a big mess. So, I have a ceramic pan that I use for this and it's great. It's super slippery, responsive, and generally easy to use. The leading edge is beveled for easier rolling. It is this – highly recommended.
Can I cook tamagoyaki without the special pan?
Yes and no. It is exceedingly difficult to make the classic rectangular shape without using a four-cornered pan. But if you have a small, round pan, there's no reason not to go for a round version. Simply pour enough of your tamagoyaki mixture into the center of the pan and toss quickly until you have a thin coating on the flat bottom of the pan – avoid the sides. And continue from there. Keep in mind that this mix loves a slippery surface, and it's one of the few times I break out a nonstick pan.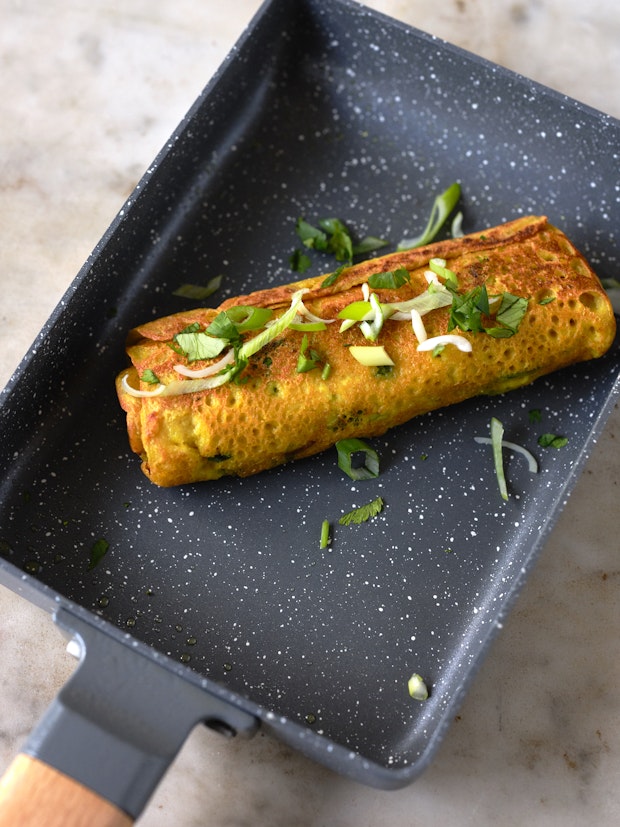 make-ahead considerations
Tamagoyaki are great because you can do multiple levels of "leading ahead." The vegan tamagoyaki mix fits into a quart-sized jar and keeps refrigerated for 5-6 days. Then, if you have a time window, you can cook all (or some) of your tamagoyaki at once. Allow to cool, individually e.g. B. Wrap tightly in parchment paper – they will keep refrigerated for 3-4 days. When you're ready to pack a lunch or prep a meal, slice and enjoy.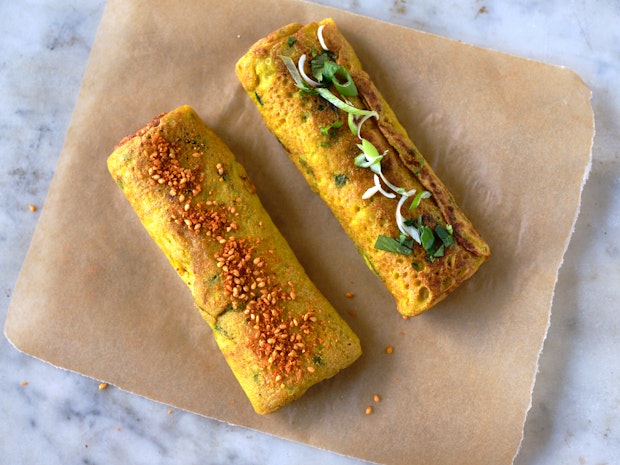 variations
Nori-lined tamagoyaki: Cut sheets of nori so they are just a tad smaller than the bottom of your pan. Immediately after coating the pan with the tamagoyaki mixture, place a sheet of nori on top of the wet mixture. It shrinks a bit and sometimes starts to curl up a bit at the edges. Proceed to roll according to the recipe. If making a double-thick tamagoyaki, baste a second sheet of nori after your second batch of tamagoyaki mixture has spread throughout the pan. Once set, roll and continue with the recipe.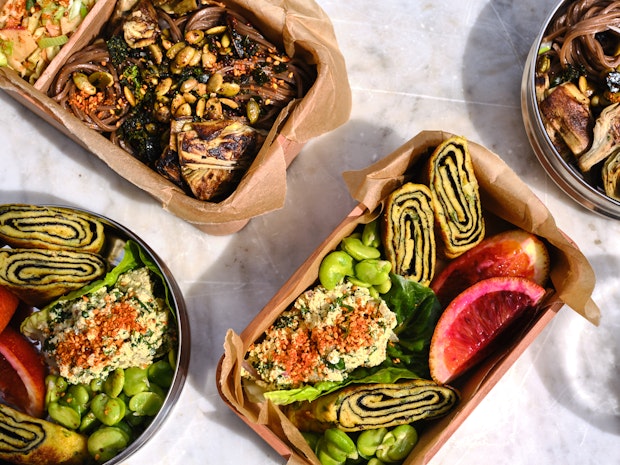 Caramelized Onion Tamagoyaki: If you have jam-packed heavily caramelized onions on hand, you can use them this way. Add some of the onions to the still-wet tamagoyaki mixture just after it reaches the pan. It works really well with this chickpea and tofu combination.
water versus broth: This recipe calls for 1 3/4 cups of water, but feel free to play around with other liquids. I made this tamagoyaki with strong mushroom tea instead of the water or a popular herbal vegetable broth. Playing around!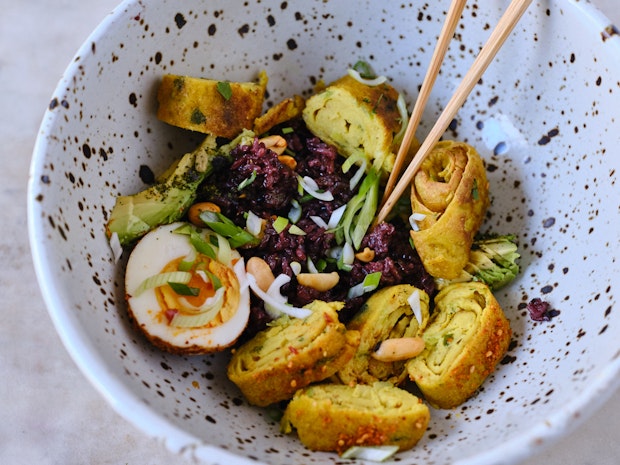 Here's another example of vegan tamagoyaki as part of a simple rice bowl for lunch. There's purple rice, sliced ​​avocado, hard-boiled egg dusted with chana masala spices, and peanuts. I drizzled it with a spicy sesame soy sauce. All of the components here were pre-built (aka leftovers). To assemble lunch, I heated the rice and got the other components out of the fridge about an hour in advance to bring them to room temperature. Have fun experimenting and have fun!
101 Cookbooks Membership
Ad-free premium membership includes:
-Ad-free content
-Print-friendly recipes
-Spice/Herb/Floral/Zest recipe collection in PDF format
-Weeknight Express recipe collection in PDF format
– Surprise bonuses all year round